On June 10th, 2020, Traxo held a Travel Managers Office Hours event, Supplier Perspectives on Corporate Travel Recovery. View the video replay and panelist presentations. Hosted by Chad Costa and moderated by Cara Whitehill, the webinar featured four strategic, innovative thought leaders in corporate travel: Bryan Watts from Uber for Business, Aileen Furlong from United Airlines, long-time travel industry consultant Scott Gillespie and Derek DeCross from IHG.

The panel discussed topics and ideas on changes to the world of corporate travel with a focus on how experiences will be quite different for travelers and businesses alike as we inch closer to the gradual return of business travel. Buyers have a host of considerations to address before they can re-open their travel programs in any meaningful way. Supplier partners play a key part, and can be a critical asset in your plans to re-open programs. During the event panelists answered a variety of questions from audience members which are available in the accompanying Q&A recap.
A paradigm shift in business travel
Beginning with Scott Gillespie, the longtime and respected industry expert shared how attitudes and concerns about travel are changing, from looking at the entire journey to understanding what corporate travelers are going through. Scott stressed the unique environment we are currently navigating and that the way we once viewed and operated corporate travel policy in the past must be re-evaluated.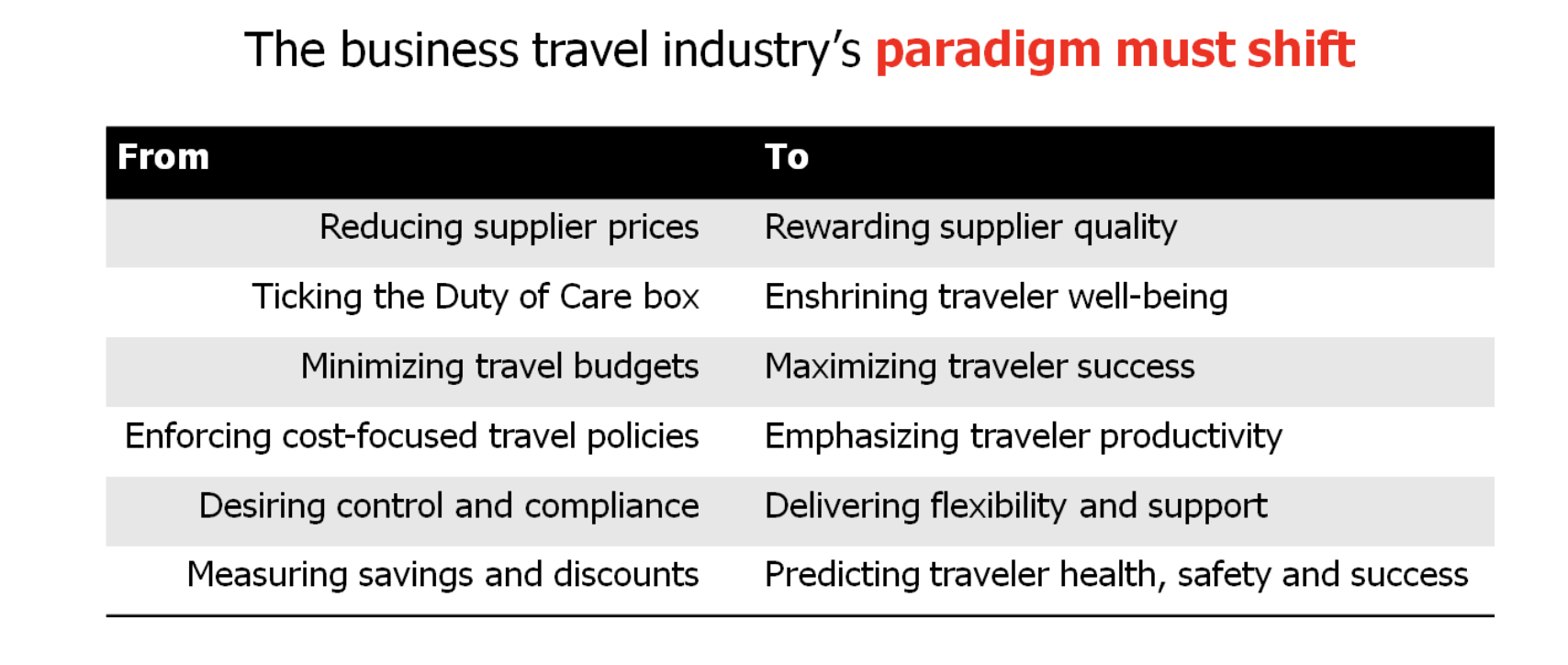 Gillespie concluded by endorsing how suppliers are showing their deep commitments to travelers and emphasized that this is an "incredible opportunity to rethink how we manage not just travel -- but travelers".
United launches CleanPlus program
Aileen Furlong, Managing Director of Global Sales for United Airlines, followed Scott by outlining specifics on enhancements for the traveler experience. United is enhancing cleanliness with programs such as "United CleanPlus." The program, developed in collaboration with experts from Clorox and the Cleveland Clinic, outlines the airline's commitment to delivering industry-leading cleanliness standards and to keep everyone as safe as possible. The CleanPlus program also includes other hygiene initiatives such as electrostatic sprayers and highly efficient HEPA filters.
Aileen emphasized that communication is vital. United's goal is to ensure travelers and those who support them have access to real-time and accurate information.
Uber re-imagines commuting
Bryan Watts from Uber for Business in Canada, summarized the intentional synergy across industry suppliers during this new normal by echoing Aileen with the top priority of keeping stakeholders informed and at the forefront of communication.
With Uber, it begins with re-imagining what the future of work looks like. For now, masks are required for both drivers and riders, and Uber is distributing PPE, including masks, wipes, and sanitizers, to each driver globally. Drivers are audited for mask compliance periodically by requiring them to take a selfie (with mask!) and load to the app, and they have enhanced their rating system to include questions about these new safety measures for both drivers and riders. Uber also provides additional hygiene education information in the app for riders to access on demand.
1. Qualtrics Survey and Report "Return to Work and Back to Business"
2. Uber's research and insights commuter survey (n=147)
According to a Qualtrics study, 60% of workers feel uncomfortable returning to the office. Uber is adapting to this trend by working alongside companies to deliver a solution, including Uber's new Commute offering, which facilitates employee transportation to and from the office via a safer and more controlled environment than public transit.
Uber Commute also has important features which echo Scott Gillespie's feelings on the importance of Duty of Care. By integrating with both Concur Locate as well as iSOS TravelTracker, companies can enhance traveler safety by delivering full duty of care for each ride.
IHG's clean hotel and meeting experience
Also joining the discussion was Derek DeCross, SVP of Global Sales at IHG. Like the other panelists, IHG's goal is first instilling confidence in the cleanliness of their properties. The IHG "Clean Promise" program, also partnered with the Cleveland Clinic, enhances procedures and protocols to deliver world-class cleanliness. IHG has also chartered a Global Cleanliness Board to define and update solutions, best practices, and processes.
What this means for travelers is a new experience with less contact, protective barriers, social distancing signage and floor markers. In the US, IHG employees will wear face coverings and gloves when providing food and cleaning services. Travelers can also expect changes to common areas and fitness centers to support social distancing.
For business functions such as meetings, IHG is implementing new approaches for food services and meeting spaces. Their "Meet with Confidence" program allows planners to reserve future group events and meetings with zero cancellation fees or attrition fees at participating hotels.
An important topic for the audience and Derek alike was RFPs. DeCross outlined that IHG has decided to approach the 2021 season in a different way, focusing on providing more flexibility to corporate clients through a combination of negotiated and dynamic rates.
Being aware of all journey touchpoints
Cara Whitehill, Traxo's CCO, highlighted how we now must look at corporate travel from a different view. Historically, the traveler experience has been viewed in singular buckets. No longer are trips comprised of only simplistic categorized silos: flight, hotel, ground transportation. Rather, we now must approach corporate travel as a journey, meaning we now must consider all the in-between moments throughout these segments.
By looking at the time spent in an airport, or perhaps a shuttle to and from the rental vehicle or ride sharing designated area, we now see these have all become points of friction along the way. For Travel Managers, viewing the journey from a traveler-centric perspective helps them better appreciate what travelers are going through -- an approach that hasn't been prioritized pre-Covid-19 pandemic.
Here are some helpful resources to learn more about this topic:
Webinar Q&A
The audience had many questions for the panelists. This Q&A summary document covers these questions as well as responses from the panelists. A big thanks to the panelists for taking the time to respond to these questions and share their insights with the audience during the call.
Traxo Office Hours
The panel of leading suppliers was part 3 of the Travel Managers Office Hours series. View all past events. If you'd like to be notified when the next webinar will take place or are interested in learning more about Traxo's offering for corporate travel managers, contact us.
eBook: Corporate Travel - The Four Stages of Recovery Post-Pandemic
Don't miss our latest eBook, Corporate Travel - The Four Stages of Recovery Post-Pandemic. This resource features a framework for how companies and their travel management partners can navigate this strange new era of business travel.